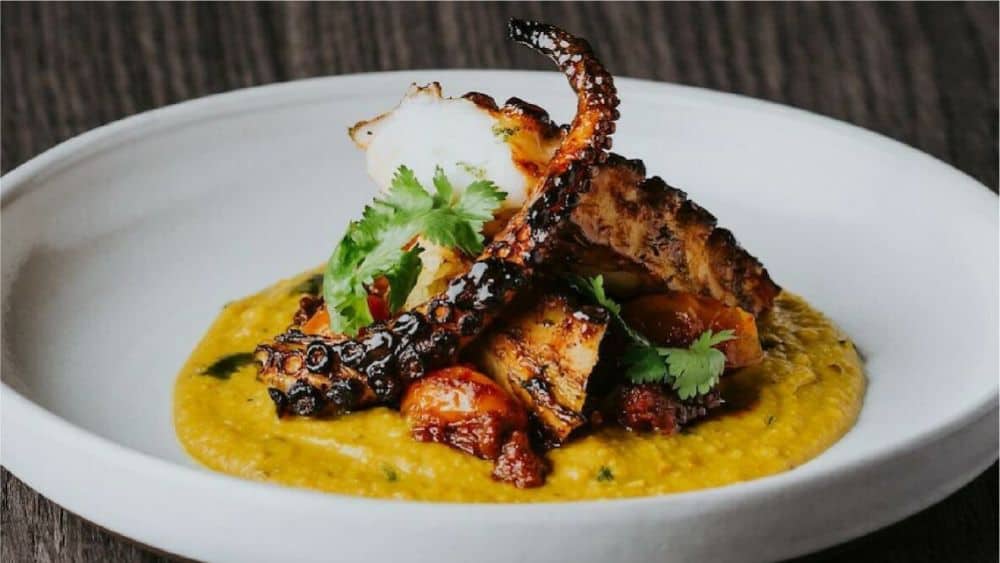 Explore Michelin Star restaurants in Singapore with Travelodge Hotels Asia. Singapore now has a total of 52 Michelin-star restaurants, up three from the previous 2021 edition, with seven new entries to the 2022 guide! The seven new restaurants, which all received one Michelin star, are Burnt Ends, Euphoria, Hamamoto, La Dame de Pic, Marguerite, Nae:um and Rêve, all representing different cuisine and approach on contemporary cuisine. Here are Travelodge Asia's recommendations on where to eat during your stay at Travelodge Harbourfront!

Cloudstreet
Named after the Tim Winton book, Cloudstreet presents a progressive approach to gastronomy by bringing together disparate cultures and influences in one exciting plate, deserving them an up from the previous star. At the heart of the two Michelin-starred restaurants helmed under Chef Rishi Naleendra, you'll find a chef's counter designed to encourage intimate interactions between each other and the action. Every visit gives you a whole new experience, as their menu is ever-changing depending on the seasonality of the ingredients, paired with a wine menu of over 350 labels from around the world. They are open for lunch and dinner, offering a 6-course and 8-course menu over at least 2.5 hours, starting from SGD 228++. One thing is for sure; you are in for a thrilling culinary journey of creativity and artistry!

Thevar
Previously one star, Thevar has successfully earned 2 Michelin stars this year! Nestled in the heart of vibrant and buzzy Keong Saik, Thevar is a contemporary Indian restaurant that serves classic dishes with a unique twist with spices that will amaze your senses. Headed by Chef Mano Thevar, each dish showcases creative interpretation and European techniques of his childhood and traditions from his Indian roots, bringing you nostalgic yet exciting flavors. The Chef's Menu starts from SGD 288++, offering a few courses with menus such as Chettinad Chicken Roti, Celeriac Root Tikka, Masala Prawn Kachori and Mustard & Coconut Paturi. If you're a vegetarian, they also offer a vegetarian version of their course!

Burnt Ends
Although they were first awarded their one Michelin star in 2018, this is the first year they won it in their new home in Dempsey Hill. Founded by Chef-Owner Dave Pynt, the new Burnt Ends is now twice the size of their previous home, yet retaining its concept of a modern barbecue restaurant serving contemporary Australian barbecue and boutique wines and spirits in a fun, relaxed atmosphere. At the heart of this modern barbecue restaurant is an open-concept kitchen with a custom four-tonne, dual cavity oven and four elevation grills known to serve the infamous pork sangar, a hearty, pulled-pork sandwich. One of the hardest tables to book in the city, their menu is priced from SGD 110++ for a tasting menu served for lunch and dinner, with new menus daily based on the seasonality of ingredients.

NAE:UM
Just one year after NAE:UM opened, they successfully grabbed one Michelin-star in their kitchen! NAE:UM, serves contemporary Seoul cuisine, with a harmony of Western techniques and Korean heritage flavours moulded through years of international culture in South Korea's capital city. As the restaurant name means a fragrance that evokes memories,' it embodies Head Chef Louis Han's goal to create innovative dishes that would bring a sense of nostalgia to the diners while changing their menu now and then. Their newest and current episode, named Han River Sunset, is inspired by Chef Louis's nostalgic series of activities around the river and transpired through his menu ingredients such as Boston Lobster, Lemon Gochujang, Autumn Mushrooms, Yuzu Makgeolli and Wagyu Beef, with menu subject to changes based on seasonality of ingredients. The bright, calm interior welcomes you to a refreshing episode of dining experience, starting from SGD 198++ per person, both for lunch and dinner occasions.

Rêve
Bask in the warmth and hospitality of Rêve led by Executive Chef Kawano Masahiko, an award recipient of the highly acclaimed Taki Hisao prize by Japan's RED-U-35 also led the restaurant to receive its first one Michelin star! Building homes in the busy streets of Chinatown, Rêve is your new destination to dine with the intimacy of a clandestine affair that's also elegant and intimate. The clatter of everyday life is gone, and all you should be anticipating is the reverie of traditional Japanese ingredients, French cuisine and local produce that is about to enchant your palate. You can expect to find the best ingredients such as Truffle Miso, Pigeon, A4 Wagyu from Hokkaido, and a few cake selections such as Almond Dried Yuzu and Fruitful Pound Cake available for order as well. Starting from just SGD 98++ for a lunch date and SGD 238++, it's your new go-to spot for celebrating the best of things, from corporate lunches with clients to celebrating special occasions with loved ones.
---
Discover the best of Singapore with the best offer from Travelodge Hotels Asia at www.travelodgehotels.asia/singapore