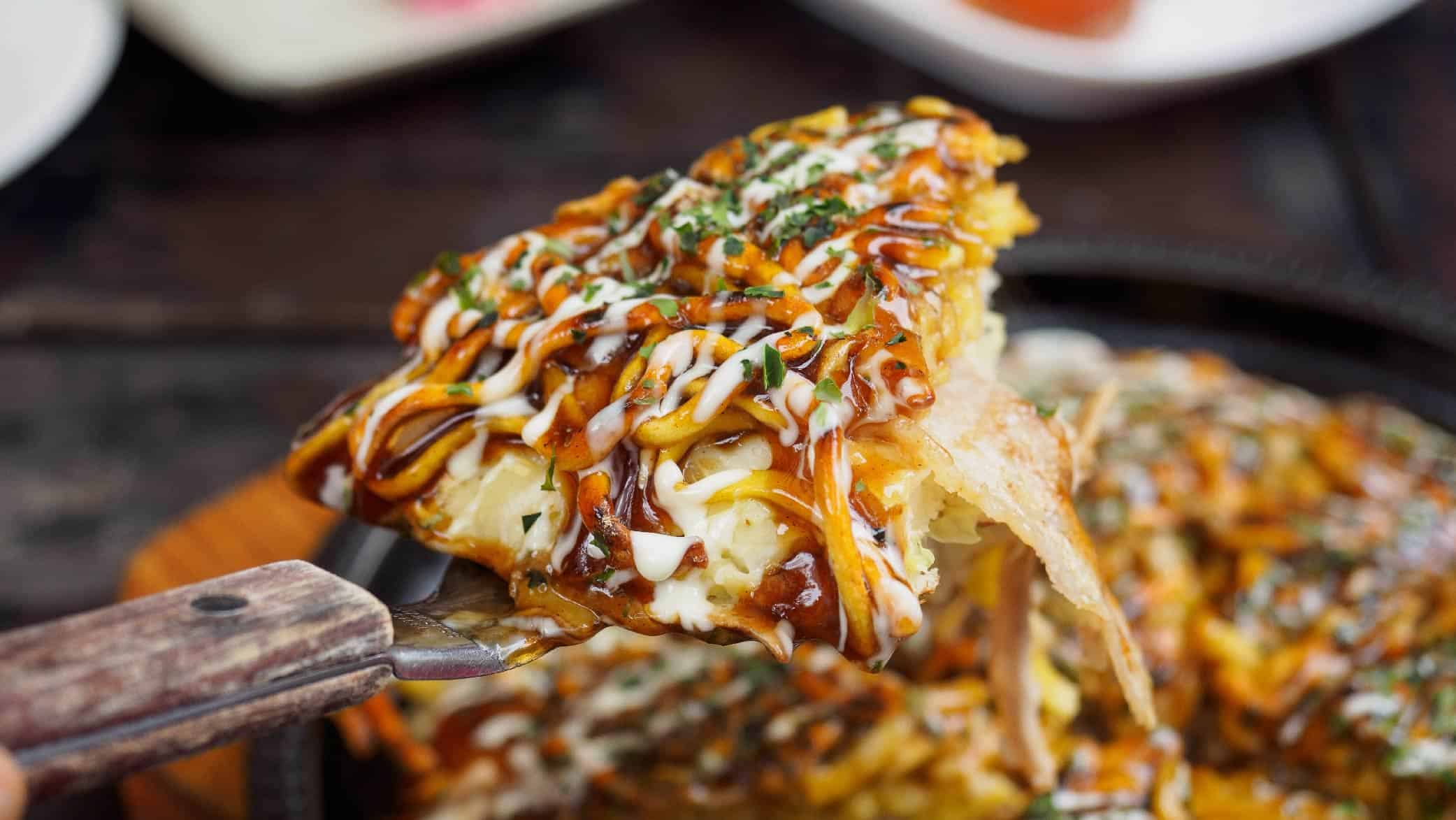 For foodies, few cities can compete with Osaka. Wherever you go, the city is bustling with good food, whether it's a street food vendor or humble eateries serving local delicacies. As you stroll through the city, you will notice their love for flour-based food or konamono. Most of their special treats are flour-based, such as takoyaki, okonomiyaki, kushikatsu and even pork buns. Needless to say, they offer cheap, hearty and delicious food of different kinds. Here are some of the essential foods in Osaka to indulge your palate with Travelodge Honmachi Osaka! 

Kitsune

Udon

 

 

 
A gem in Osaka, kitsune udon is a hearty, simple dish that originated from Osaka during the Meiji Area. Although udon is commonly found in all parts of Japan, there is an additional of one ingredient which makes it special: A slab of fried rectangular tofu. The tofu represents the two foxes often seen guarding the shrines in Osaka and the source of its name. There are a few reasons for the origin of the name, with some saying it's because the foxes love eating the deep-fried tofu, and some say it's because the golden colour resembles the fox's fur. The tofu is made in a process identical to inari sushi, which is deep fried and simmered in sweet sauce.   
Our recommendations:  
Usami-Tei Matsubaya  

 

Imai 

 

Shio-Ya 

 

Dotonbori Imai

Takoyaki 

 

 

 

 
A trip to Osaka is only out-and-out if you have had their most famous specialty, Takoyaki. Translated to "octopus balls," the dish is believed to have been around since 1935 by a street vendor from Osaka named Tomekichi Endo. He was inspired by a dish called choboyaki, which is fundamentally takoyaki, but rectangular and flat in shape. Every golf-sized ball of gooey batter is filled with octopus cuts underneath a creamy, savoury and sweet batter all at once. The key characteristics of Osaka's takoyaki are that they are runny and soft on the inside, whereas most takoyaki is typically crispy on the outside and has a sturdier filling. It also does not have cabbage, as how many other regions do. 
Our recommendations: 
Takoya Dotonbori Kukuru

(Minami)

Takoyaki Doraku Wanaka

(

Minami)

 

Kougaryu

(

Minami)

 

 

Hanadako

(

Kita)

 

 

Okonomiyaki 

 

 
Often described as pizza of the East, Okonomiyaki is a thick pancake with all kinds of different ingredients hugged together with fresh cuts of cabbages and wheat flour batter. You would never have to worry whether or not you will like the toppings, because you get to choose your own ingredients, whether it's shrimp, squid, pork, chicken, beef, cheese, or even mochi. Okonomi means "as you like it, and they stay true to it – the locals eat their okonomiyaki right off the hotplate using a small spatula called kote. You get to cook it according to how you like it – whether you like it runny, sturdy or crispy. Oh, make sure to always cut it in squares – not in triangles!   
Our recommendations:  
Kiji

(

Ki

t

a)

 

 

Chibo

(

Minami)

 

 

Ajinoya (Minami) 

 

Mizuno

(Minami) 

Jibundoki (Central Osaka) 

 

Kushikatsu

 

 
The perfect accompaniment to your drink, Kushikatsu is deep-fried, battered food on skewers. It is an affordable, hearty food that was originally a quintessential Osakan working-class food during the end of the Taisho era to make people feel full with cheap ingredients and thick breading food. Although it is born in Shinsekai, you can now find them everywhere across the city with different kinds of components, from beef, seafood, vegetables, cheese, fruits, and even desserts. There's only one rule when you eat the dish: no double-dipping in the black, sweet, tangy sauce.   
Kushikatsu

Daruma

(

Tennoji Area)

 

 

Shichifukujin

(

Kita)

 

 

Bon

(

Kita)

 

 

 
Our recommendations:  

Butaman

  

 

 

 
Osaka is home to an ample number of butaman specialty shops offering steamed pork buns which are often regarded as the best in the country. Pork buns throughout Japan are called nikuman, except for Osaka, who prefers to call them butaman to differentiate it with beef (niku) buns easily. One of the most popular shops in Osaka would be 555 Horai, made fresh daily in an open kitchen, allowing you to immerse yourself in the cooking process fully. The meat is juicy and thick, with a hint of sweetness from the onion, all wrapped beneath a fluffy, warm bun. Sometimes, people add finely chopped vegetables such as takenoko (bamboo shoots) or dried shiitake mushrooms. You will often find people carrying them across cities as a gift for their loved ones.  

Taiko Manju 

 
For sweet-toothers, Taiko Manju is a sweet dumpling you should try. The traditional treat is a staple to the region, made from flour, sugar, and eggs. The name taiko refers to a style of drum commonly found in Japanese ceremonies and resembles the shape of the dessert. The dumpling is rather thick, typically filled with a red bean paste, although these days, you can find modern fillings such as custard, chocolate, and fresh strawberries when it's in the season. Our tips would be to eat them fresh and warm from the special copper moulds. One of the best taiko-manju in the city is Gozasouro. It is located on the first floor of the JR Shin-Osaka Station.  
---
Discover the best of Osaka with the best offer from Travelodge Hotels Asia at https://www.travelodgehotels.asia/japan/