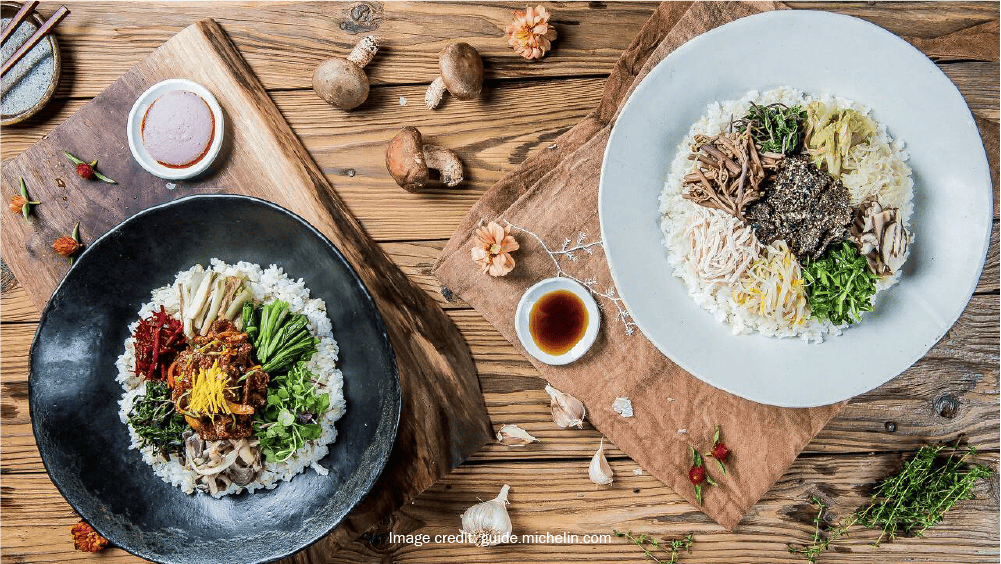 Discover the Best of Seoul's Cuisine: Michelin Star Restaurants in Seoul. In Seoul, you will always be surrounded by good food to satisfy your Korean food cravings. It is also why the city has its very own Michelin Bib Gourmand guide, with a total of 61 restaurants selected in 2022. Bib Gourmand is a Michelin award given to establishments that offer great, high-quality dishes at affordable prices. In Seoul's case, the eateries on the list serve three-course meals for less than 45,000 (US$32). With many of these establishments located in the city centre, it also means that they are less than 25-minutes away from Travelodge Asia's hotels in Seoul, which are Travelodge Myeongdong Euljiro, Travelodge Myeongdong City Hall and Travelodge Dongdaemun.

Myeongdong Kyoja (명동교자) 
The family eatery, which has been in operation since 1966, claims to be the founder of the famed Kalguksu noodles, which literal meaning is noodles made by cutting flour dough into thin slices with a knife. The humble restaurant only offers four items on the menu, which are Kalguksu (chopped noodle soup), Bibimguksu (spicy noodle soup), Mandu (dumplings), and Kongguksu (noodles in cold soybean soup, served along with their signature garlic-laden kimchi which has been seasoned and fermented for at least three years! Their dumplings are plump and silky smooth, with juicy filling from the mixture of pork, leek and vegetable essence, blending in with the soft noodle with thick chicken broth.

Chungmuro Jjukkumi 
Just a stop away from Myeongdong, Chungmuro Jjukkumi Bulgogi is located in a side alley off the main road since 1976. The family eatery has been loved for generations because of Jjukimi, a webfoot octopus marinated in a sweet and spicy red sauce. The magic happens when the octopus is served along with bulgogi, both grilled over charcoal, which gives off a delightful smoky flavor and aroma. One of the key ingredients in the dish's preparation is makgeolli or Korean rice wine. It not only tenderizes the octopus but also eliminates the fishy aroma and gives it a sweet aftertaste. When you're done with the dish, finish it with a bowl of fried rice cooked in a secret sauce and crunch kimchi that keeps you wanting more. Accompanied with a bit of soju, it is a quintessential Seoul experience one must experience at least once.

Pildong Myeonok 
If you've never tried Pyeongyang-style naengmyeon or noodles served in an icy cold broth, Pildong Myeonok is where you should start. Known for its mild taste, Pyeongyang-style broth may taste bland at first sip, but slowly, you will be able to taste a delicate beef flavor, with a side of vinegar and mustard available if you prefer a stronger flavour. If you love a kick of spiciness, opt for their bibim naengmyeon, the version with spicy sauce with a hint of sweet aftertaste. Order a side of tender, buttery pork slices with dipping to delight your tastebuds to complement the chewy buckwheat noodle. Located not far from central Seoul's Mount Namsan, it is the perfect option to end your light stroll from nature.

Imun Seolnongtang (Seolleongtang)
If you ever wonder about the oldest restaurant in Seoul, it's safe to say that Imun Seolnongtang is one of them. The restaurant has been serving hearty seolleongtang for over a hundred years since it first opened in 1908. In fact, the restaurant name even has a long history: the word imun comes from Imun-gol, the now-obsolete name of the restaurant's location, and seolnongtang, an old variation of the phrase seolleongtang. Generations have loved the restaurant, and one of its regular customers includes Gijeong Son, the marathon gold-medalist at the 1936 Berlin Olympics. The rich broth is made from ox bone, organs and meat, simmered in low heat for 17 hours and served with a bowl of soft wheat noodles or warm rice and minced green onion to elevate the taste.

A Flower Blossom on the Rice 
Looking for a hearty, healthy meal in Seoul? A Flower Blossom on the Rice is a restaurant that caters to the health-conscious diner, serving wholesome home-cooked vegan and vegetarian meals using only certified eco-friendly and organic ingredients sourced straight from the farm. One of their main ingredients, Jang, is also handmade traditionally without any chemical seasoning. The owner proudly mentioned that 95% of the restaurant is organic and eco-friendly. The hanok-style interior with wooden accents gives a welcoming and cozy feeling, as one would gulp on their signature "Bojagi Bibimbap," a bowl of steamed rice made with five assorted vegetables wrapped in a crepe-thin layer of egg with seaweed ribbon and a single flower on top. Since the restaurant is relatively small, be sure to make a reservation in advance to ensure you get your preferred time slot.
---
Discover the best of Seoul with the best offer from Travelodge Hotels Asia at www.travelodgehotels.asia/korea/