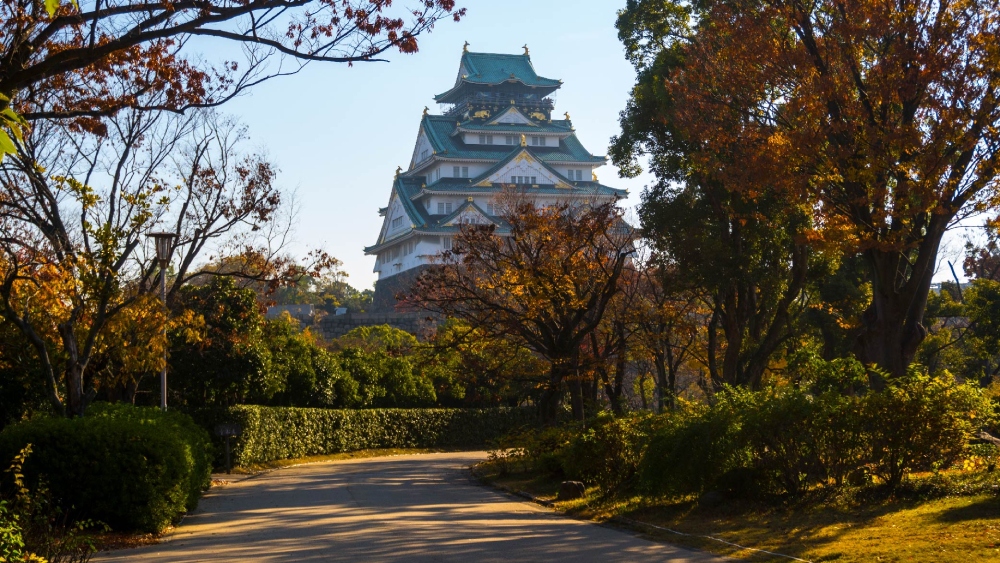 When it comes to autumn, few places can rival the allure of Osaka. Japan's third-largest city not only showcases the season, but also magnifies its beauty with a tapestry of crimson leaves. Nestled in the energetic pulse of Osaka, Travelodge Honmachi Osaka serves as more than just a modern accommodation – it's your gateway to an autumn adventure like no other. Here are our top seven must-visit locations to witness the dazzling spectacle of fall in Osaka!
Minoo Park
First on the list is the lush and sprawling Minoo Park, a natural sanctuary just a short train ride from Osaka's bustling center. The park is a favorite among locals and visitors alike during the fall when the landscape turns into a fiery red and gold sea. Here, you can leisurely explore the trails winding through the trees and witness the 33-meter-tall Minoo Waterfall cascading amidst the vivid hues of autumn leaves. The fall season also brings a local specialty – momiji tempura, or deep-fried maple leaves, an absolute must-try!
Osaka Castle Park
In the city's heart, Osaka Castle Park offers a stunning fusion of history, architecture, and nature. As autumn descends, the park bursts into an array of warm colors, with over 600 trees donning their fall finery. While the castle, a magnificent symbol of Osaka, is a significant draw, the real spectacle is the contrast of the golden ginkgo and red maple leaves against the white castle walls. It's a photographer's paradise!
Expo '70 Commemorative Park
Known for hosting the 1970 World Exposition, this park is one of Osaka's best spots for autumn leaf viewing. The Japanese Garden within the park is a quintessential location to appreciate traditional landscaping against the backdrop of vibrant fall colors. Don't miss out on the "Dream Pond," where the reflection of fiery autumn leaves in the water creates a mesmerizing effect. Travelodge Honmachi Osaka provides easy access to this delightful park, making it a convenient day trip during your stay.
Katsuo-ji Temple
Away from the bustling city, nestled in the Mino mountain range, you'll find the serene Katsuo-ji Temple. Not only is this Buddhist temple a site of spiritual significance, but it also offers some of the most breathtaking autumn views. The temple grounds are home to numerous maple trees, which explode into vibrant reds, oranges, and yellows in the fall, complementing the temple's traditional architecture. A visit here is an enriching experience, both visually and spiritually.
Hoshida Park
Hoshida Park, located in the suburbs of Katano City in Osaka Prefecture, is a nature lover's dream, especially during autumn. The park is adorned with vibrant red, orange, and yellow hues, creating a breathtaking canvas of fall colors. Its centerpiece, the Hoshi no Buranko, is a 280-meter-long wooden suspension bridge that offers stunning panoramic views of the autumn foliage. Hoshida Park also caters to adventurers, with various rock climbing routes and hiking trails that meander through the park's richly colored forests.
Midosuji Street
During the fall, Osaka's Midosuji district becomes a mesmerizing golden tunnel, courtesy of its iconic ginkgo trees. These emblematic trees, which line one of the city's major thoroughfares, burst into striking shades of yellow from mid-November to early December, stunningly contrasting the city's urban skyline. Just a few minutes away from Travelodge Honmachi Osaka, the street is a social hub where photographers, couples, and families converge to capture or bask in the autumnal glory.
Tsurumi Ryokuchi Park
This sprawling urban park, located in the northeastern part of Osaka city, is a beautiful retreat in autumn. Known for hosting the International Garden and Greenery Exposition in 1990, Tsurumi Ryokuchi Park boasts a variety of flora that bursts into a riot of colors in fall. Its winding paths, interspersed with gardens representing different countries, become particularly enchanting with the changing foliage. A stroll here during autumn offers a global botanical tour enveloped in a beautiful fall palette.
---
Discover the best of Osaka with the best offer from Travelodge Hotels Asia at https://www.travelodgehotels.asia/japan