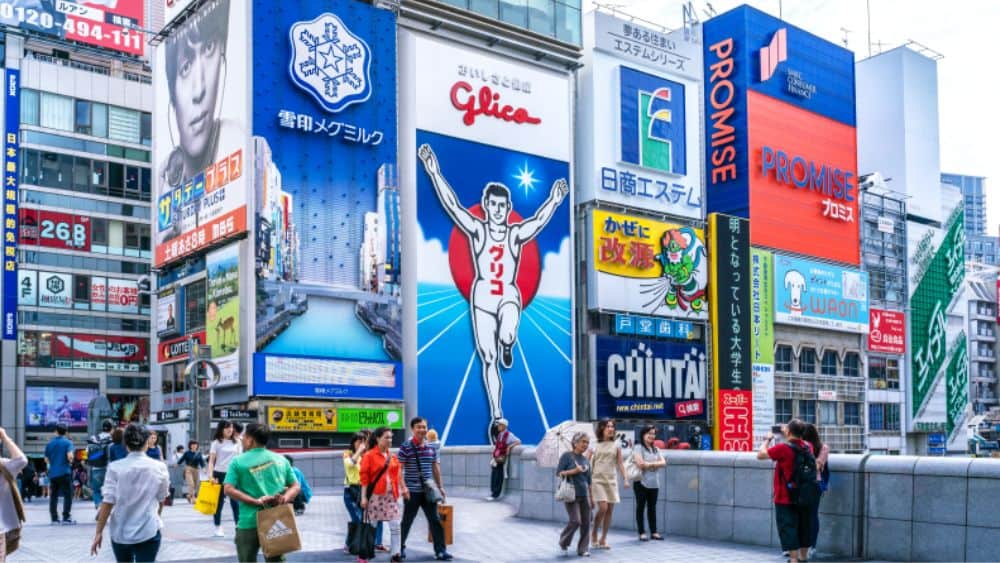 Osaka, the capital city of Western Japan and the second largest metropolitan city in Japan after Tokyo, lies on the south coast of western Honshu Island. With its location on the Yodo delta, the Japanese port city is a pit-stop for many destinations, attracting both locals and tourists alike from all around the world. Together with Tokyo and Kyoto, Osaka is one of the three must-visit cities in Japan, especially for a foodie! Dubbed "the nation's kitchen," Osaka is famous for many local dishes using the highest, freshest ingredients! Not only that, there are countless tourist attractions in Osaka, from the neon-lit entertainment district, shopping streets, historical temples, and traditional castle that adds a distinctive character to the city like no other. Discover the best places to visit in Osaka!
Whether you're here for work, play, or the urge to eat until you drop as the locals do, here is Travelodge Hotels Asia's list of attractions you must visit to get the best of Osaka, Japan!

Osaka Castle
Osaka castle is the most popular sightseeing spot among Osaka's heritage sites. The castle, which played  a significant role in the unification of Japan during the sixteenth century of the Azuchi-Momoyama period, was built by a prominent samurai named Toyotomi Hideyoshi. Today, the castle is much loved by locals and tourists of many generations.
Inside the castle, you can see the exhibitions and try on a helmet and surcoat to dress like a samurai. The souvenir shop offers special goods from the castle which you cannot get anywhere else!
This place is exceptionally popular for its beautiful cherry blossom in Spring. During the cherry blossom season, the site gets even more vibrant as many street stalls and thousands of visitors gather for a hanami party in the castle.
Tips: With an elevator available, the eight-story castle is accessible for everyone of all ages.

Osaka Aquarium Kaiyukan
Once the world's largest aquarium, Osaka Aquarium Kaiyukan is renowned for its creative recreation of the aquatic animals at their most vibrant and dynamic by recreating the natural environment of their habitats.
Kaiyukan features over 15 large tanks, each recreating a specific region of the Pacific Rim. Guests are able to walk through on a fascinating tour of the Pacific Ocean, from the "Japan Forest," which recreates a sunlit, beautiful Japanese forest; the icy, snow-clad "Antarctica;" to the centerpiece of the aquarium, "Pacific Ocean," a 9 m deep, 34 m long tank containing 5,400 tons of water. It also serves as the home of whale sharks, the largest fish species in the world.
A variety of Japan's own marine life is also featured, including freshwater species, native reptiles, and mammals. In total, the aquarium boasts 27 tanks with more than 30,000 creatures encompassing 620 species— including otters, sea lions, penguins, dolphins, whale sharks, rays, and jellyfish, to name just a few. With a new stimulating and interactive exhibition area that offers a sensory experience of touching sharks, a visit will surely prove a deeply rewarding experience.
Tips: Try visiting at night when the tanks are fully lit up and showcase dazzling effects for a magical experience!

Kuromon Ichiba Market
Kuromon Ichiba is one of Osaka's main food markets. The market, which stretches up to 580m long, is nicknamed "Osaka's kitchen," as it is where both local households and renowned chefs get their ingredients from! Although the market is known for its fresh fish and live seafood, you can also find fresh fruit, vegetables, meat, dried fish, pickles, and confectionery.
The market dates back to the Edo Period, and today makes for an atmospheric place to just wander around to enjoy the vibrant atmosphere. As the market is known as "tabearuki tengoku" (the paradise to walk and eat), try eating various foods from different shops as much as you like. Expect to find some yummy goodness and grilled seafood such as crab legs and oysters, yakitori, sea urchin, sushi, eel, seasonal fruits, and the street food staple takoyaki.
Tips: The market also has some good restaurants and homeware shops. Definitely a must-go place for food lovers!

Shin Sekai
Shinsekai, a unique district with a retro atmosphere, is a popular sightseeing spot in Osaka that is always crowded with locals and tourists alike.
At the district's center stands "Tutenkaku Tower," the symbol of Shinsekai, and Osaka itself. A tribute to Eiffel Tower, the 103 m tall tower's deck is open for visitors. At the observation deck, you will get to see the statue of Biilliken, Osaka's famous God, who is known as "the God of things as they ought to be" as inscribed on the pedestal he sits on.
A trip to Shinsekai wouldn't be complete without enjoying a stick of kushikatsu, Osaka's best-known specialties. The dish is composed of golden, crispy fried skewered meat and vegetables. The variety ranges from chicken and beef, to pumpkin and asparagus, to the banana and ice cream dessert varieties. Although many of the kushikatsu restaurants are open 24 hours, it does truly come alive when the light sparks at night.
Tips: Another popular spot in the area is Spa World, an onsen theme park that offers various hot springs set in various themes of places from around the world.

Dotonburi
A paradise for food enthusiasts, Dotonburi is a tribute to kuidaore, or eat till you drop with a plethora of street food vendors, izakaya-style pubs, and tabehoudai (all-you-can-eat) to enjoy!
The area stretches along the Dōtonbori canal from Dōtonboribashi Bridge to Nipponbashi Bridge in the Namba district. As the sun sets, the brightly lit neon lights and extravagant signage lits up, shining the entire city into liveliness. While in the area, you must visit Hariju for prime Japanese beef shabu shabu and sukiyaki, Zubora-ya for pufferfish specialty restaurant, and Kukuru for Japanese takoyaki. If you're in the mood for some crab, Kani Douraku is your to-go-to, although the queue may go up to 3 hours! Whether you're full or not, you cannot miss eating Kushikatsu here.
Tips: You may also find the Glico board that is often seen on TV or your social media feed. Taking a picture with the billboard of a runner crossing a finishing line is an iconic Osaka must-do!
---
Discover the best of Osaka with the best offer from Travelodge Hotels Asia at https://www.travelodgehotels.asia/travelodge-honmachi-osaka/