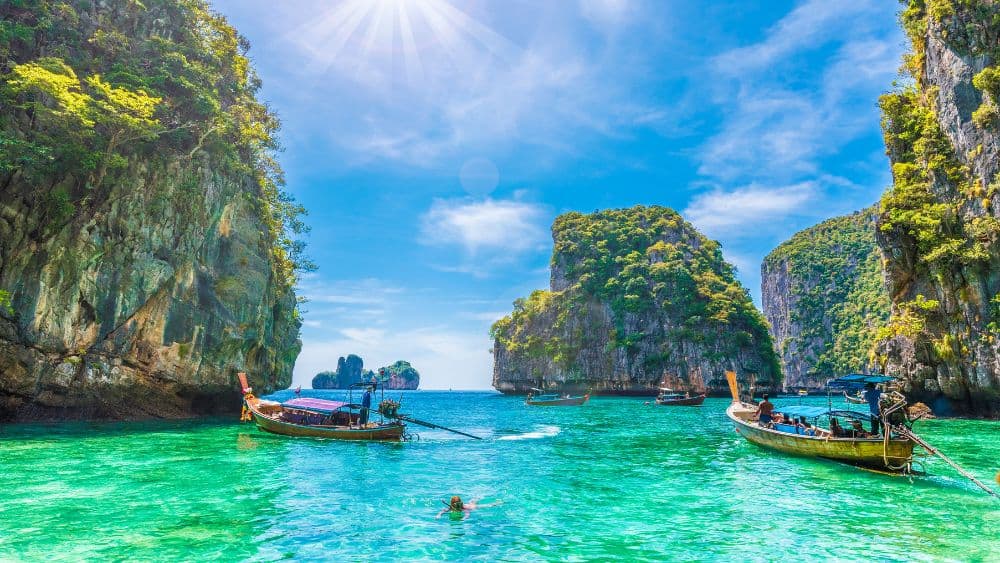 If one were to say that paradise doesn't exist, they probably haven't been to Phuket! The places to visit are boundless. Thailand's largest island, Phuket, boasts postcard-worthy beaches underneath limestone cliffs and sun all year-round. Nature enthusiasts are in for an adventure, whether to go island hopping, trekking for a scenic lookout point or swimming among a hidden waterfall. In any case, travellers from local and international destinations alike undoubtedly flock to soak in the sun, snorkel the pristine blue waters, enjoy the freshest catch of the sea cooked in authentic Thai spices and relax for a rejuvenating Thai massage. The island's beauty is complemented by the warm hospitality of the locals inhabiting the island, ready to show you the best time of your life!
With so much to choose from, Travelodge Hotels Asia will make your travel planning so much easier with our list of must-visit places to enjoy the best of the tropical island utopia.

Wat Chalong
Built at the beginning of the 19th century, Wat Chalong, or Chalong Temple, is the largest of all Phuket's temples and the most visited one. Wat Chalong is dedicated to two monks, Luang Pho Cham and Luang Pho Chuang, who fought and treated the injured between citizens of Chalong Sub district against the Chinese rebellion in 1876. The Chedi, or Grand Pagoda, is home to a fragment of Lord Buddha's bone, and the walls feature murals illustrating Buddha's life story images.
Tips: Make sure you wear appropriate dresscode. No short pants, shirts without sleeves, or bare feet.

Sirinat National Park
Sirinat National Park sits on the island's northwest coast and is best known for its white sandy beaches and the view of aircraft flying low over a beach for landing. The 90-square kilometer coastal area has four unspoiled beaches, with two of them being the only beach in Phuket where leatherback turtles come ashore at night to lay their eggs. There are also 130 species of birds recorded, such as mangrove pittas, Nicobar pigeons, and brown-winged kingfishers.
Tips: If you want to see leatherback turtles, visiting from November to February is best! You can help the local patrols and protects the eggs.

Sunday Walking Street Market
Sunday Walking Street Market is a night market that takes over Thalang Road in Phuket Old Town every Sunday evening. Also known as Lardyai, which means  "big market, " you will most likely find typical southern Thai culinary specialties as well as local handicraft, jewellery, and gift stalls in the market. The colourful Sino-Portuguese-style house facades make a great backdrop for the market, inviting many tourists to take Instaworthy shots for their social media.
Tips: Make sure to bring enough cash as many stalls only accept cash payments.

Phi Phi Island
Diving and snorkeling in Phuket is a must, and Phi Phi Island is one not to miss out on! With good visibility and an ideal water temperature of 26 – 30 degrees celsius, you will be able to see colorful corals and tropical fish, seahorses, sea turtles, manta rays, and even whale sharks. The best way to get to Phi Phi island is either by ferry or speedboat, with the ferry being the most popular choice for tourists, although it may be very crowded during the high season.
Tips: If you are travelling in a bigger group, the speedboat is a better option as you can split the price and the duration is so much faster than the ferry, almost by 50%.
---
Discover the best of Ipoh with the best offer from Travelodge Hotels Asia at https://www.travelodgehotels.asia/travelodge-phuket-town/