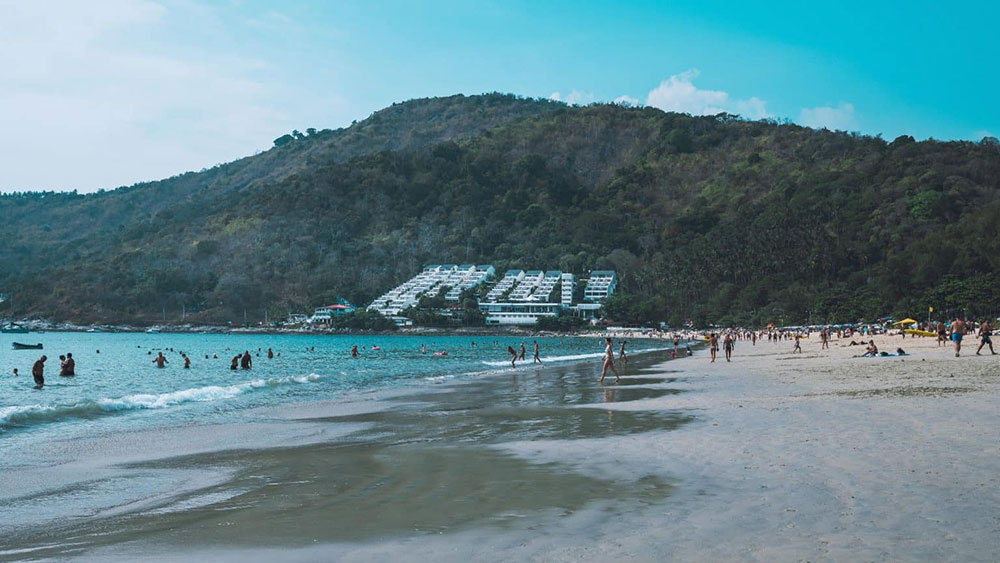 Welcome to Phuket, the tropical paradise of Thailand! This captivating island is blessed with a multitude of breathtaking beaches that attract travelers from all corners of the globe. From the vibrant shores of Patong Beach to the tranquil oasis of Kata Noi Beach, each stretch of sand offers its own distinctive charm and allure. As you embark on your beach-hopping adventure, make Travelodge Phuket Town your home base. Situated conveniently in the heart of Phuket Town, this hotel provides easy access to these pristine coastal gems, ensuring a memorable and convenient stay as you explore the wonders of this island paradise. Discover our top 6 beaches for you to explore during your stay in the sunny island!
Patong Beach
Patong Beach, located on the western coast of Phuket, is a vibrant and bustling paradise that caters to all types of travelers. With its 3.5-kilometer stretch of soft, powdery sands, crystal-clear turquoise waters, and a plethora of water sports, it offers a perfect blend of excitement and relaxation. Dive into thrilling adventures like jet skiing and parasailing, or simply unwind under the warm sun. As the sun sets, the beach transforms into a lively hub of nightlife, with numerous bars, clubs, and restaurants lining the streets. Patong Beach truly captures the essence of Phuket's dynamic atmosphere and provides an unforgettable beach experience. Head to the northern end of the beach for a quieter atmosphere!
Kata Noi Beach
Kata Noi Beach, a hidden gem on Phuket's southwestern coast, is a serene haven for those seeking tranquility. With its clear turquoise waters and picturesque surroundings, this pristine beach is a paradise for sunbathers in search of ultimate relaxation. Whether you prefer a leisurely swim in the calm, inviting waters or want to try your hand at surfing, Kata Noi Beach offers a peaceful escape from the crowds. For a truly serene experience, consider visiting during the low season to enjoy the beauty of this hidden gem undisturbed.
Mai Khao Beach
Mai Khao Beach, located on Phuket's northwest coast, is a haven of natural beauty and tranquility. As part of the Sirinat National Park, this pristine beach offers a peaceful retreat away from the hustle and bustle of tourist hotspots. Take leisurely walks along the shore, feel the soft sand beneath your feet, and bask in the serenity of the surroundings. Relax under the shade of the casuarina trees that line the beach, providing a perfect spot for relaxation. During the nesting season, keep an eye out for sea turtles as they come ashore to lay their eggs. It's recommended to bring sunscreen and drinking water, as the beach has minimal facilities.
Nai Harn Beach
Tucked away between verdant hills on Phuket's southern coast, Nai Harn Beach is a hidden treasure renowned for its pristine sands and crystal-clear waters. This secluded paradise provides an excellent spot for swimming and sunbathing, where you can unwind and soak up the sun's rays. Make sure not to miss the nearby Nai Harn Lake, a serene freshwater lake that offers a peaceful escape from the beach. Additionally, be sure to catch the breathtaking sunset from Phromthep Cape, a viewpoint that offers panoramic views of the coastline. For the best experience, arrive early to secure a good spot, especially during the peak season when it can get crowded.
Kamala Beach
Kamala Beach offers a tranquil and family-friendly ambiance. With its calm waters, it's the perfect spot for swimming and snorkeling, ensuring a delightful experience for water enthusiasts of all ages. Along the beachfront, you can indulge in a variety of local delicacies at the charming beachfront restaurants, allowing you to savor the flavors of Phuket. Take a leisurely stroll along the vibrant Kamala Walking Street, where you can immerse yourself in the local culture through lively markets, street food stalls, and unique souvenirs. For a truly unforgettable experience, plan your visit during the Phuket Vegetarian Festival in October, where you can witness colorful processions and cultural performances that showcase the rich traditions of the island.
---
Discover the best of Bangkok with the best offer from Travelodge Hotels Asia at https://www.travelodgehotels.asia/thailand