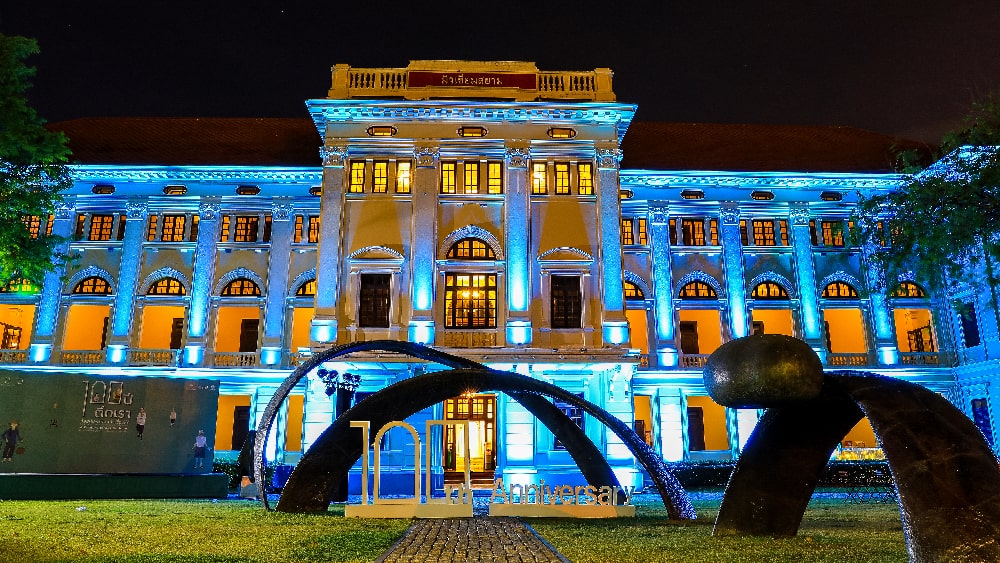 As the bustling capital of Thailand, Bangkok captivates visitors with its rich cultural heritage, vibrant markets, and iconic landmarks. Beyond its traditional charm, the city also offers a vibrant contemporary art scene that beckons art enthusiasts and cultural explorers. From cutting-edge galleries to immersive art experiences, Bangkok's art landscape reflects the city's dynamic spirit and creative pulse. Travelodge Hotels Asia invites you to delve into Bangkok's contemporary art scene, uncovering its hidden gems and experiencing the fusion of art, culture, and hospitality. Whether you're a seasoned art enthusiast or a curious traveler, this guide will provide insights into the city's thriving art community, all easily accessible from our hotel.
The National Museum of Thailand
Immerse yourself in the rich history and culture of Thailand at the National Museum, a must-visit destination for history enthusiasts. Located near the Grand Palace, the museum houses a vast collection of artifacts, sculptures, and artworks that span centuries, offering a comprehensive overview of Thai history. Explore the various galleries, where you'll encounter ancient Buddhist relics, intricate royal regalia, and traditional Thai art forms. To make the most of your visit, consider hiring a knowledgeable guide who can provide insights into the exhibits and their cultural significance. Additionally, be sure to check the museum's website for any special exhibitions or events taking place during your visit.
Museum of Contemporary Art (MOCA)
Experience the vibrant and dynamic world of contemporary Thai art at the Museum of Contemporary Art, located in Chatuchak. This modern museum showcases a diverse range of artworks, including paintings, sculptures, installations, and multimedia creations by renowned Thai artists. Take your time to appreciate the different artistic styles and mediums on display. To enhance your understanding, consider reading about the featured artists beforehand or attending guided tours offered by the museum. Keep in mind that the museum's exhibits may change periodically, so it's a good idea to check their website for any temporary exhibitions or events that may be of interest during your visit.
Jim Thompson House
Step into the captivating world of Jim Thompson, an American entrepreneur who played a pivotal role in reviving the Thai silk industry. Explore his meticulously restored traditional Thai-style house, which showcases his impressive collection of Southeast Asian art, antiques, and textiles. As you wander through the rooms filled with beautiful artwork, don't miss the opportunity to visit the lush garden that surrounds the house. To fully appreciate the history and significance of the place, opt for a guided tour that provides in-depth information about Jim Thompson's life and his contributions to Thai culture. Keep in mind that photography is not allowed inside the house, so it's advisable to bring a notebook or sketchbook to capture your impressions.
Museum of Siam
Discover the fascinating exhibits at the Museum of Siam, a thought-provoking institution that explores the history, culture, and identity of the Thai people. The museum offers interactive displays, multimedia presentations, and hands-on activities that provide a unique and engaging learning experience. To make the most of your visit, allocate sufficient time to fully explore the exhibits and participate in the interactive experiences. Engage with the displays, watch the informative videos, and don't hesitate to ask questions or seek guidance from the friendly museum staff. Additionally, the museum often hosts temporary exhibitions and special events, so be sure to check their website or inquire at the ticket counter for any ongoing or upcoming programs.

Bangkok Art and Culture Centre (BACC)
Embark on a captivating journey into Bangkok's contemporary art scene at the Bangkok Art and Culture Centre (BACC), a vibrant cultural hub located in the heart of the city. The center serves as a dynamic platform for showcasing a wide range of contemporary art exhibitions, live performances, workshops, and art-related events. As you wander through the galleries, take your time to soak in the diverse range of artistic expressions on display. To enhance your experience, consider timing your visit to coincide with gallery openings or artist talks, where you can engage directly with the artists, delve into their creative processes, and gain valuable insights into the artworks. Moreover, the BACC offers a variety of workshops and classes, providing visitors with hands-on opportunities to immerse themselves in artistic activities. Before you go, make sure to check the BACC's website or follow their social media platforms for the latest updates on exhibitions and events, allowing you to tailor your visit according to your artistic interests.
---
Discover the best of Bangkok with the best offer from Travelodge Hotels Asia at https://www.travelodgehotels.asia/thailand