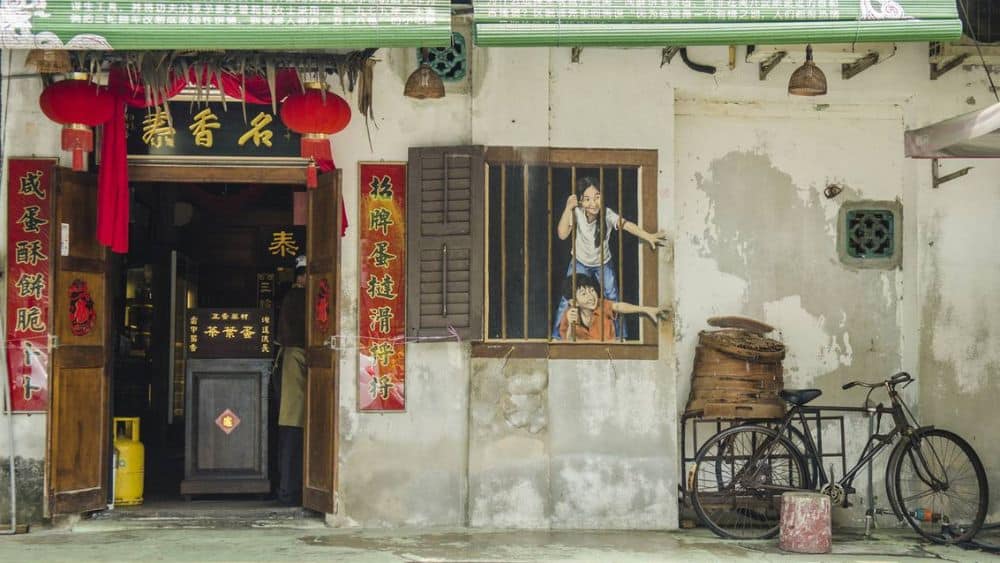 Tucked in on the eastern edge of Penang, the capital city Georgetown embraces a historical charm like no other.
The city has become a major tourist destination for its abundance of colonial architecture from its former British settlers, which has been deeply rooted as much as its delectable Asian history. Every corner of the city gives you an insight into life in the past and its growth journey from being a humble fishing village into one of UNESCO World Heritage sites. Penang is also known as one of Malaysia's best places to eat, sparking a massive love for sprawling street food. Many of these street food eateries have been serving the same iconic dish for decades, with a touch unique to each stall.
Discover the colourful, artsy neighborhood and restored historical sites with Travelodge Hotels Asia and embark on exciting adventures to explore a host of Georgetown Penang attractions
---

1st Avenue Mall
With seven levels of retail outlets, this sophisticated shopping mall will satisfy any shopper wanting to indulge in a spot of retail therapy.
From home decor shops to trendy clothing stores, the choices are endless at 1st Avenue Mall. This mall also has a wide array of food options when you want a break from shopping. Serving a variety of authentic local delicacies and international cuisines, Food Avenue will be a welcome respite from all the walking and shopping! There are also dessert and snack shops such as Baskin Robbins and ChaTraMue for those looking for a sweet, indulgent treat or drink. The mall is truly going beyond just giving you a hearty meal and a fulfilling time of shopping.
Tips: Go to the 8th floor to get a magnificent panaromic view of the city!

Penang Road
Encompassing four different sections, each segment of Penang Road is equally fascinating and lively, with its vibrant lights and bustling atmosphere.
Penang Street has a mind-boggling array of entertainment, shopping, and dining options to keep you occupied, while Party Street at Penang Road lives up to its name with bars, nightclubs, karaoke joints where you can let your hair down and party the night away. If you're not quite the party animal, Upper Penang Road is also home to various antique shops and quaint boutiques – perfect for exploration during the day.
Food is always a mainstay of Penang, so be sure not to miss the second section of Penang Road, located along Lebuh Chulia and Jalan Burma. Here, hawkers whip up local delights such as assam laksa and satays, filling the street up with delicious aromas. Your journey of fun and entertainment awaits you.
Tips: Keep cash on hand as many stalls only accept cash.

KOMTAR Tower
At a soaring 249 m high, the KOMTAR Tower (also known as The TOP) holds the tallest building built in Penang. This magnificent tower stands out amid the bustling city life and attracts a steady stream of visitors every year. With a wide range of attractions located within the building, the KOMTAR tower is the perfect place for a time of fun and excitement.
Enjoy a thrilling and electrifying experience at the Rainbow Skywalk located at KOMTAR's highest point, where you get a stunning 360-panoramic view of the whole city! Designed with a clear glass walkway, stepping on the Rainbow Skywalk creates the illusion of walking on air. Guaranteed to pump your adrenaline, a moment on the Observatory deck of the skywalk will turn your legs to jelly with an excitingly terrifying view of the vast city life whizzing by from beneath your feet.
Other interesting attractions located at KOMTAR include "Jelly Bump", "Musical Carousel" and "Magic Mirror Maze", all extremely engaging and funtastical activities that are perfect for you to bond with the young ones or just to have a time of youthful fun!
Tips: The best time to visit The TOP is during sunset, where you can see incredible pink and orange sky, over the water, city, and mountain peaks.

Armenia Street
Home to a stretch of beautiful shophouses, serene temples and quaint little cafes and art galleries, Armenian Street has a distinctively charming personality.
Adorned with meticulously hand-painted murals, these paintings on Armenian Street are strongly nostalgic and sentimental, depicting scenes of days gone by. Some well-known murals you can expect to see are "Children on a Bicycle" as well as "I Want Bao", which is situated right outside Ming Xiang Tai Pastry Shop. Other important landmarks to look out for are the religious temples, such as Cheah Kongsi Clan House Temple, which boasts an ornate, luxurious exterior. With glimmering gold finishings along the edge of the roof and traditional lanterns hanging around the temple, this temple will take your breath away with its extravagant and glorious design. A cultural gem like this one is hard to come by, so those looking for an authentic Penang experience should definitely visit Armenian Street.
Tips: Come early in the morning to take photos with the murals in the area without the queue.

Clan Jetties of Penang
The Clan Jetties of Penang is a tourist attraction featuring villages built above water, a historically and culturally significant spot worth a visit.
The village currently houses seven clans, each with unique customs and heritage. These charming villages also house the temples where villagers partake in traditional rituals such as morning prayers and religious festivities to commemorate a special day.
This is, however, with the exception of the Ong clan, where it remains as a work jetty rather than a residence place. The Chew Jetty, in particular, is the most visited village of them all, with small shops selling different kinds of knick-knacks and services, so be sure to support the locals when you visit!
Located near the Clan Jetties are various eateries to provide you with a nice, hearty meal. The Live Seafood Restaurant is located in front of the Chew Jetty, while the Ice Kacang stall is at the front of the Tan Jetty for when you are looking for a cool, refreshing dessert on a particularly hot afternoon.
Tips: Do ask for their permission to photograph the people, events, or sacred objects.
---
Discover the best of Georgetown with the best offer from Travelodge Hotels Asia at https://www.travelodgehotels.asia/travelodge-georgetown/