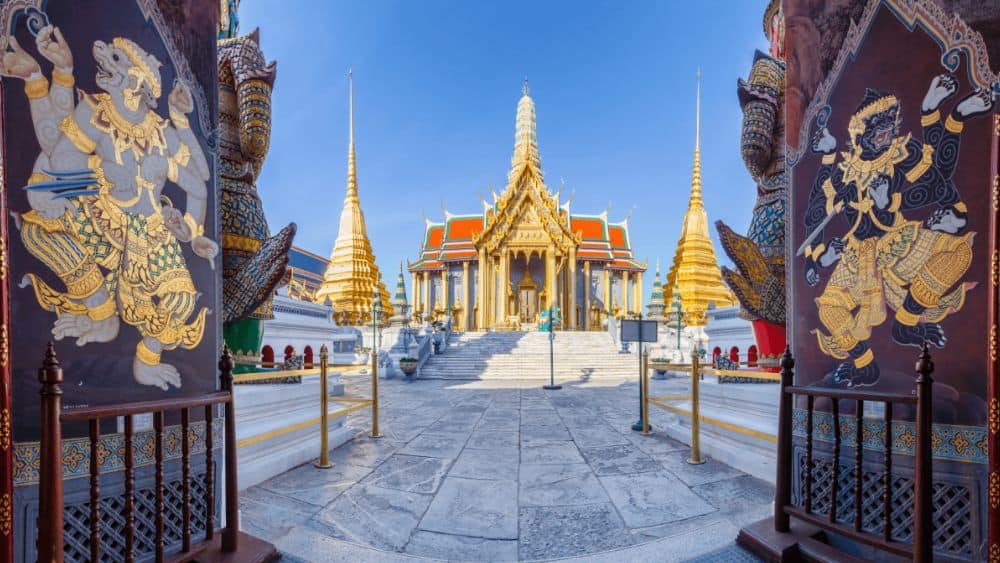 Bangkok is everything and nothing you can expect from Thailand's capital city. There are many must visit places in Bangkok. It's vibrant, bustling, colorful, exciting, warm, and dynamic. Many may find the fascinating city a little overwhelming at times, but it is a city that represents Southeast Asia's growth to being a developing city. Despite being the most developed city in Thailand, the city remains true to its nature through maintaining its historical architecture and warm Thai hospitality. The city is packed with grand palaces, gigantic skyscrapers, state-of-the-art shopping malls, tantalizing street food, and world-renowned floating markets to awaken your five senses and stir your soul. Bangkok will always hold an intriguing story to tell.
A foodie city. A sacred city. A shopping paradise. Whatever Bangkok is known for, Travelodge Hotels Asia has got you covered to squeeze out the best of what the city offers!

ASIATIQUE The Riverfront
Asiatique uniquely combines two of the most popular shopping experiences in the city – a night bazaar and a mall. Ten minutes downriver from Saphan Taksin BTS Station, this once-bustling international trade port is now a complex warehouse housing over 1,500 boutiques and 40 eateries. Opening from 5.00 p.m., you will more often than not spend an entire evening here browsing the boutiques, picking out gifts and eating some delicious food. There are shows performed nightly at the Calypso Ladyboy Cabaret and a classic Thai puppet performance if you seek entertainment. The selection of shops is interesting, with a good range of unusual brands rather than row upon row of tourist trinkets. A favourite spot for tourists and locals, Asiatique is definitely a place worth dedicating an evening to explore.
Tips: Ride the famous ferris wheel during sunset to catch the spectacular view, along with Bangkok skyline and riverfront area!

China Town
Bangkok's Chinatown is commonly known as Yaowarat Road. It has two completely contrasting faces in the day and by night. If you visit Yaowarat during the day, you will see shops selling gold, Chinese herbs, fruits, and Chinese restaurants serving authentic cuisine. Visit Yaowarat after sunset, and you will see the road turn into a street food heaven where several food trucks serve marvellous dishes that are difficult to find elsewhere, from steaming Chinese fried noodles to refreshing Chinese iced desserts. The energy that oozes from its endless rows of wooden shophouses is simply contagious – you will want to keep coming back for more.
Tips: Plan your visit during major festivals, like Chinese New Year, and you will see Bangkok Chinatown at its best.

Grand Palace
Probably the most visited and revered landmark in Thailand, The Grand Palace is a must-visit for all travellers. The construction of the Grand Palace began in 1782 during the reign of King Rama I, founder of the Chakri Dynasty, and it has been the architectural symbol of Thailand ever since. The Grand Palace served as a significant royal residence until 1925 and is now used solely for ceremonial purposes. Apart from the Palace, this place is also the residence of the Emerald Buddha, carved from a single block of fine jade.
Tips: Make sure you wear appropriate dress code. No short pants, shirts without sleeves, or bare feet. Proper clothes are provided near the entrance if needed.

Chatuchak Weekend Market
With over 200,000 people flocking into Chatuchak Market every weekend, the Bangkok marketplace has become the world's largest weekend market. The market has over 15,000 stalls spread across 35 acres and 26 sections that range from food, art, antiques, fashion, and much more.
Tips: Bargaining is a must in the market, and it would also be great knowing a few numbers or two in Thai to avoid getting ripped off.

Wat Arun The Temple of Dawn
Sitting majestically on the Thonburi side of the Chao Phraya River, the legendary Wat Arun is one of Thailand's most striking riverside landmarks. Despite the name, the most spectacular view of the glittering monument can be seen from the east side of the river at sunset, when the spires of Wat Arun make an impressive silhouette against the skyline.
Tips: Make sure you wear appropriate dress code. No short pants, shirts without sleeves, or bare feet. Proper clothes are provided near the entrance if needed.
---
Discover the best of Bangkok with the best offer from Travelodge Hotels Asia at https://www.travelodgehotels.asia/travelodge-sukhumvit11/