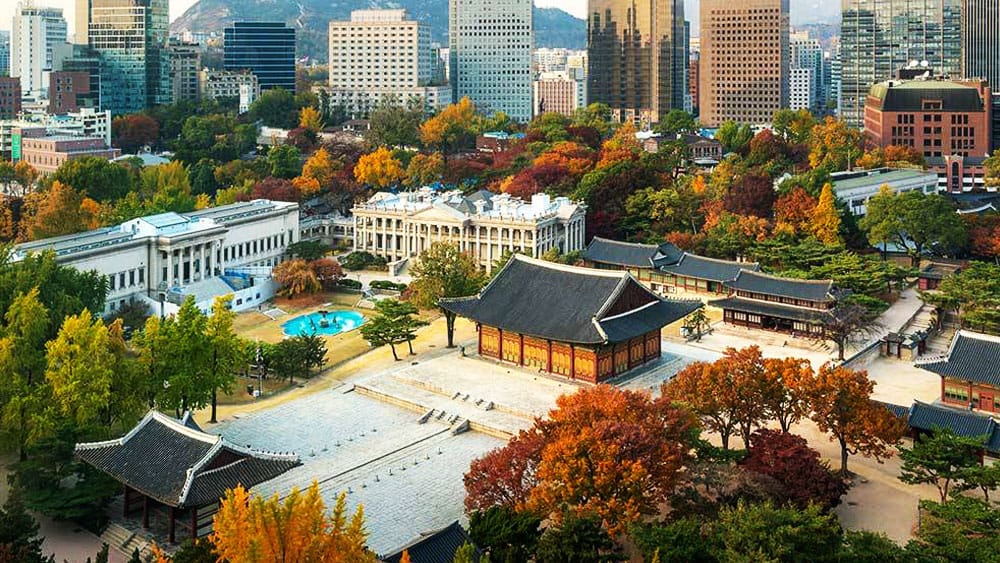 Discover Seoul's famous places in South Korea that never fails to draw inquisitive travellers from all over the world. The city is a whirlwind of action with a seamless fuse of rich history and ultra-modern technology that radiates in every street corner and back alley. One moment you might be exploring Seoul's natural escapes, and next, you might be wearing Korean traditional clothes, Hanbok, while exploring a restored palace.
It's not hard to fall in love with the city. Aesthetic cafes? Check. Skincare and fashion alley? Check. Blaring K-pop? Absolutely! Shop until you drop? No one can do it better than Seoul! While it may be daunting for first-timers, Seoul offers modern comforts like no other. It has an extensive subway and bus system that takes you anywhere in the city efficiently, and you can always find something to do at any time of the day in almost any area!
The bustling neon light-filled megacity offers everything for everyone, and with Travelodge Hotels Asia, discover the top-rated tourist attractions in this exciting city to fit into your travel itinerary.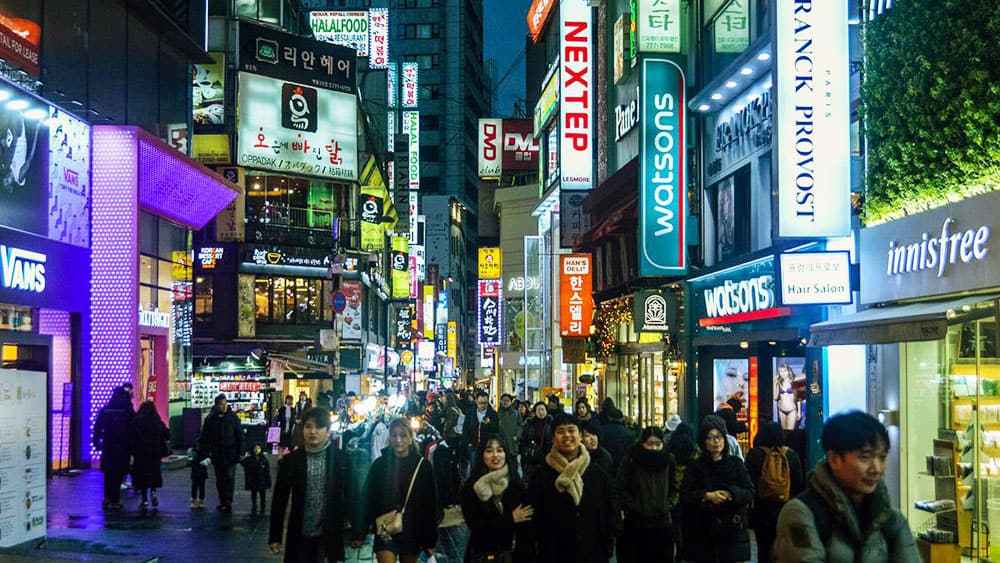 Myeongdong Shopping Street
One of Seoul's primary shopping districts, Myeongdong shopping street, is a hive of activity with tourists and locals flitting from store to store, bustling and buying. Bright neon signs beckon and call at all hours of the day in every season. It is a true shopping mecca.
Packed with shops featuring popular Korean brands, you can find every cosmetic product under the sun along this shopping street. The Korean beauty industry has now garnered worldwide fame, a trend reflected in store after store selling Korean skincare and cosmetic products. Other than beauty products, brand-name shops, and fashion apparel stores also line this street, making it impossible to come and leave empty-handed.
Food stalls also have their place in this shopping street. Local snacks such as spicy fried chicken, rice cakes, meatball skewers, omelette burgers, stir-fried noodles, and banana pancakes are served piping hot. Cool drinks and cold desserts are also widely available – perfect for a quick refreshment if you're there shopping on a warm summer's day.
Tips: While there are so many foods in Myeongdong, you can't miss local's favorite kalguksu, knife-cut noodles with rich broth.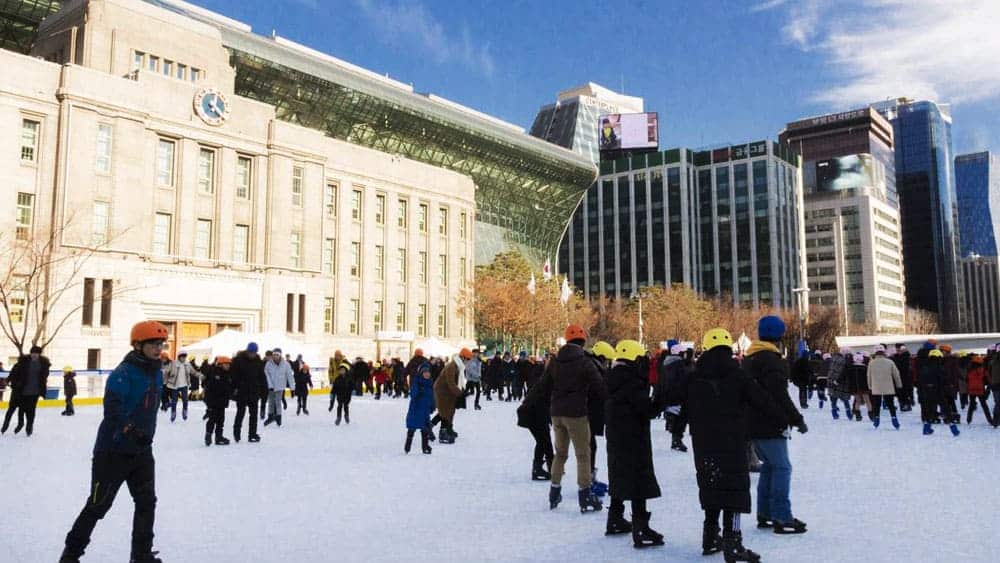 Seoul City Hall
Located at the heart of Seoul and a proud architectural monument, Seoul City Hall is a historical and architectural marvel. The building was first constructed in 1925 as a city hall until a new, modern structure was added in 2008. The historic building now houses the Seoul Metropolitan Library, while the new building is home to the city government.
The newly constructed city hall is now an eco-friendly, contemporary building. Be wowed by one of the world's largest vertical gardens – aptly named the Green Wall – as well as Metaseosa Seobeol, a symbolic art piece representing South Korea's history and journey as a nation.
You can also take the Seoul City Hall's glass elevator to see the complete extravagance and beauty of the building. It will then take you to the eighth floor, where you can enjoy a serene afternoon at the Sky Plaza Gallery, host various art exhibitions. Located directly in front of Seoul City Hall is the charming old City Hall home to a majestic library for a relaxing, quiet me-time.
Seoul Plaza is also situated within proximity to Seoul City Hall. This plaza comes to life during the night as it hosts events and enchanting performances in the summer. When cold and chilly winter days arrive, it calls for some fun on the outdoor skating rink on a beautiful winter wonderland.
Tips: Be sure to check out for some events and performances held in the city hall!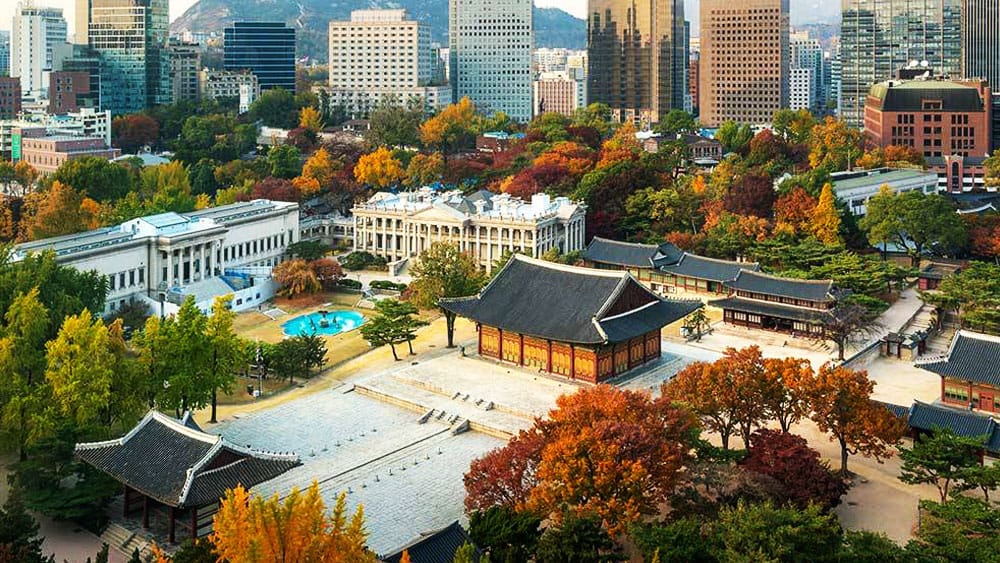 Deoksugung Palace
Standing proudly amongst gleaming, modern buildings is the Deoksugung Palace, a majestic reminder of Seoul's storied past.
A royal residence with over 500 years of history, Deoksugung Palace has maintained a few of its earliest structures while adding new buildings and extensions within its grounds. Today, the building embraces a unique but harmonious blend of medieval and modern architectural styles. Deoksugung Palace means "Palace of Virtue and Longevity," an inspiring namesake as you take in the elegance and intricate beauty of the palace infrastructure.
Don't miss visiting the Seokjojeon Hall, which stands out due to its unique and elaborate western-styled architecture, as well as the "Jeonggwanhen," which translates to "place from which to watch the garden silently." This serene place was where the late Emperor Gojong would visit to unwind. While smaller than the other four palaces in Seoul, the Deoksugung Palace is a historical and architectural gem that is not missed.
Tips: Don't miss out on watching the famous Changing of the Royal Guards ceremony located at the front of the building that has been happening since 1996.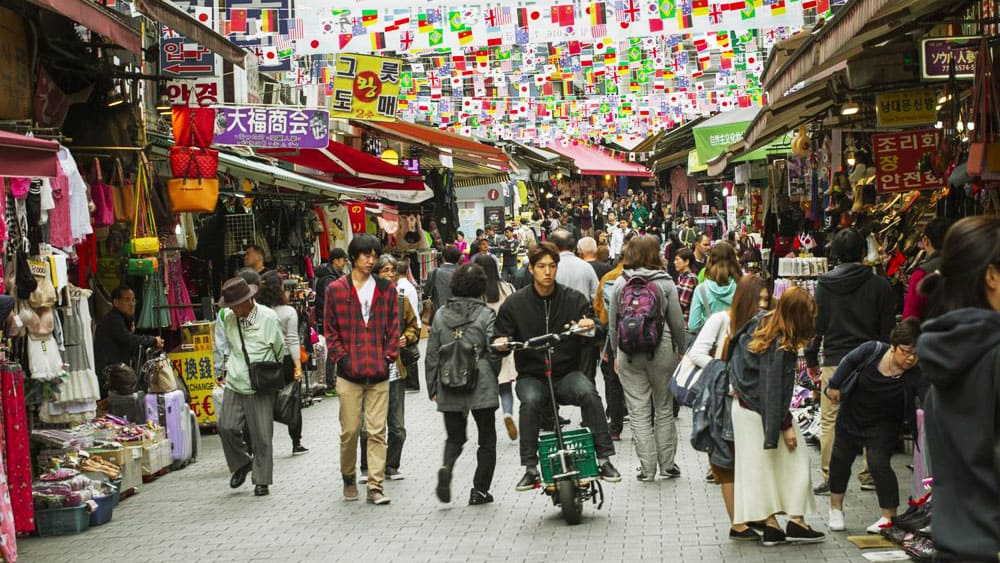 Namdaemun Street Market
First opened in 1964, Namdaemun Market is one of the oldest and the largest traditional markets in South Korea, bustling with more than 10,000 retailers, vendors, and sellers.
Pulsating with a vibrant, lively atmosphere, Namdaemun Market is both a shopper's haven and a foodie paradise, home to a maze of stores and stalls covering more than 66,000 square metres. This market is the antithesis to the glitzy sameness of major modern malls, with its eclectic and dizzying array of products – from fashion items, jewellery, luggage, toys, carpets, stationery, hiking gear, fresh flowers, and electronics, as well as an extensive collection of Korean souvenirs. Be prepared to haggle – that's half the fun of shopping at Namdaemun!
Street food is another huge draw here. Stalls selling local food is almost everywhere you turn. Spicy rice cakes, plump and juicy Korean dumplings, piping hot noodles, and other enticing local delights are offered here. Head down for a day of shopping and eating like a local.
Tips: The market is open 24/7 so take your sweet time when visiting!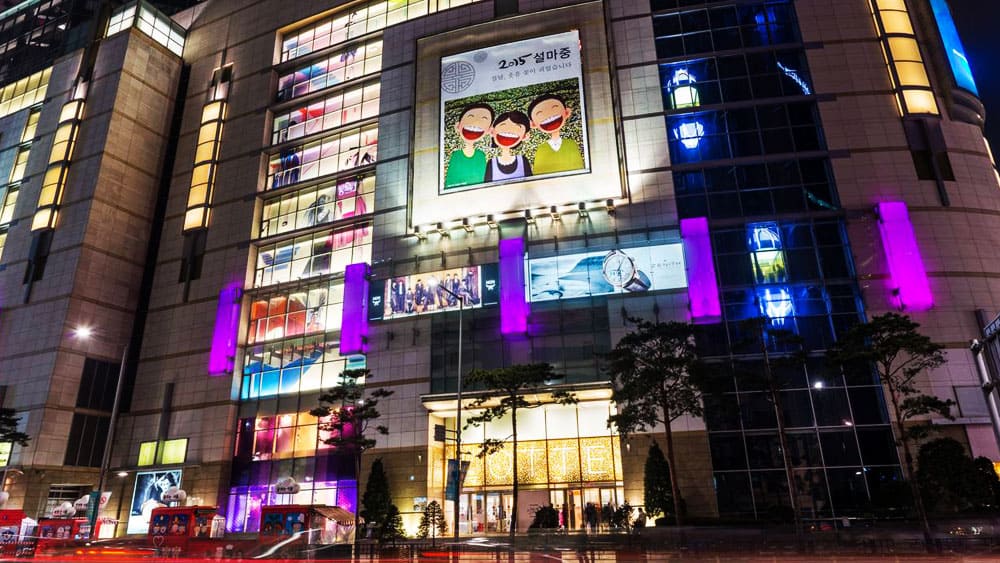 LOTTE Department Store
An elegantly imposing building, the LOTTE Duty-Free Shop rightfully holds the title of being the world's third-best duty-free mall with its mind-boggling array of retail brands under one very beautifully constructed roof.
With limitless options available at LOTTE Duty-Free Shop, this mall has become a heaven for shopaholics! Whether Korean make-up products or high-end designer goods, LOTTE mall is full of options at various price points. The bonus? The mall gives tax-free claims for overseas visitors!
Tips: Head to the basement for a massive food court offering local snacks, luscious pastries, and gorgeous, intricate desserts.
---
 Discover the best of Seoul with the best offer from Travelodge Hotels Asia in South Korea at https://www.travelodgehotels.asia/korea/