Travelodge lands in South Korea, with more to come!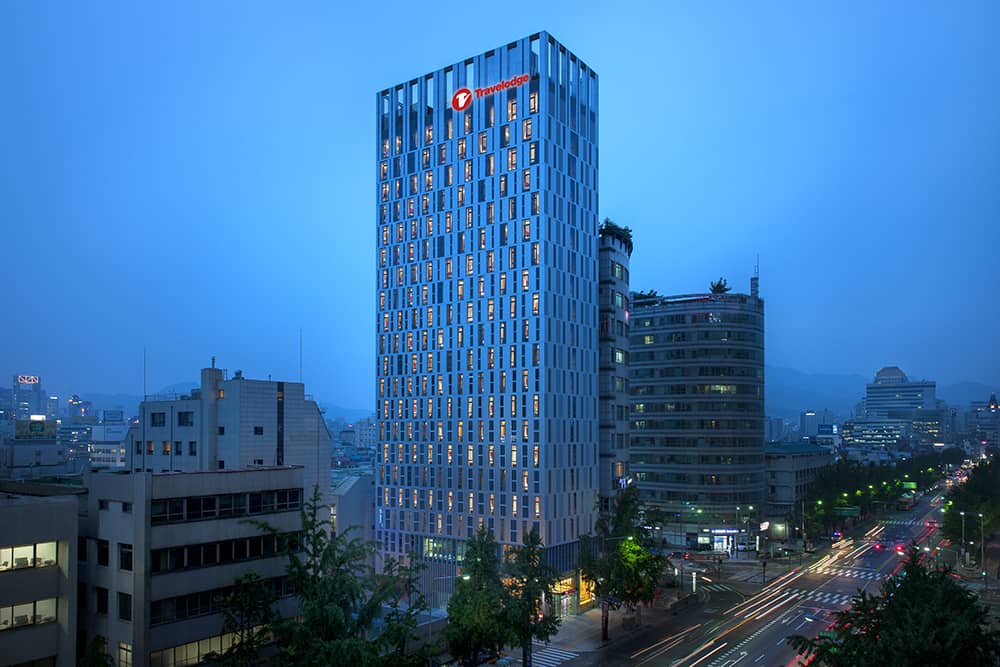 Singapore, 05 December 2018 – Travelodge Hotels Asia is delighted to announce the opening of Travelodge Dongdaemun this week, its first hotel in Seoul, South Korea. Situated in the city's central Jung District, the 242-room hotel will offer new and loyal guests, defined by the brand as 'Travel Trailblazers', unparalleled access to a dynamic mix of top global attractions and local hidden gems.
Marcus Aw, Managing Director of Travelodge Hotels (Asia) Pte Ltd, said: "Our entry into Seoul, a key gateway city in Asia, is testament to the successful growth trajectory of the Travelodge brand in the region. We have opened eight hotels across five countries as we aim to service the growing needs of our #TravelTrailblazers, who are travelling around the region more frequently and looking for the Travelodge brand to accompany them on their adventures. We aim to give guests a unique product but consistent experience across our portfolio, which means the same feel but with a somewhat different look to pay homage to the local culture of each city and neighbourhood that our hotels are located in. We intend to expand aggressively in Seoul in the coming 12 to 18 months, focusing on specific areas namely Myeongdong, Namdaemun, Hongdae, Itaewon and Insadong. We have been working on our South Korea expansion strategy for over two years now and it is wonderful to see the efforts of the team bear fruit."
Access to a shopper's paradise, from day to night
Located in the globally renowned fashion and design epicentre of Seoul, Travelodge Dongdaemun is only a short walk from signature wholesale shopping destination Dongdaemun Shopping Complex, the popular Pyounghwa Fashion Town and multi-level fashion plazas Doota, Migliore, and Hello apM, which stay open into the early hours of the morning. The shopaholics' paradise of Myeongdong is also located just three train stations away, featuring tax-free* shopping across a huge range of luxury and high street fashion and cosmetics brands. Once travellers have had their fill of 24/7 retail therapy, they can take to the surrounding streets, which come alive at night with neon lights and regular live concerts and dance performances.
Outdoor markets like Dongdaemun Night Market, Open Market and Gwangjang Market are also key shopper hotspots not to be missed. The oldest market in Seoul, Gwangjang Market, is a short walk from 2 Travelodge Dongdaemun, offering an expansive array of traditional Korean hanboks, fabrics and textiles. The adjoining food alley boasts an impressive line-up of the city's best street eats, from freshly cooked noodles and handmade dumplings to spicy rice cakes and mung bean pancakes.
For culture vultures
The hotel is located at the exit of Euljiro 4-ga Station and in close proximity to Dongdaemun History & Culture Park Station, putting culture seekers in the heart of the action with the likes of Heunginjimun Gate and Dongdaemun Seonggwak Park on their doorstep. The architecturally iconic Dongdaemun Design Plaza is also within walking distance – a must-see hub where young Korean buskers, emerging culinary talents, and local artisanal craftsmen descend as night falls. Euljiro, a recently gentrified neighbourhood with independent artist studios, quirky cafes, record shops and hidden bars, is also just one train stop away.
Location, location, location
Located a 30-minute drive from Gimpo International Airport, and easily accessed from Incheon International Airport by the AREX (Airport Express), Travelodge Dongdaemun is an ideal accommodation choice for guests prioritising convenient access to the city's key tourist attractions and commercial buildings. Travelling out to other cities is also easy, with major national transit points no more than 25 minutes from Travelodge Dongdaemun by bus or metro. This includes Seoul Station – which is served by South Korea's high-speed rail system along the major Gyeongbu Line, and Cheongnyangni Station – Seoul's terminus for passenger trains serving the eastern parts of South Korea.
About Travelodge Dongdaemun
The hotel's 242 stylish and well-equipped rooms are designed to reflect the contemporary and electric undercurrent of the city, with a selection of room types ranging from Superior rooms for solo voyagers to spacious Deluxe rooms for families. Corporate travellers have access to fully-furnished conference rooms in the hotel for private business meetings. The Travelodge Grab n'Go nestled in the lobby provides time-strapped guests with quick and fuss-free breakfast options. Alternatively, travellers with the luxury of time can enjoy a leisurely breakfast between 7am and 10am at The Lodge, Travelodge's signature all-day dining concept serving meals throughout the day. The hotel also features a rooftop garden where guests can kick back in the evening and enjoy chimaek – a quintessentially Korean set of fried chicken and beer with breathtaking views of Dongdaemun on one side and Seoul Tower on the other.
Launch promotion!
From now until 28 February 2019, Travelodge Dongdaemun will run an opening promotion offering 10% off all room rates, including buffet breakfast. Members of the TravelodgeR recognition programme will receive a further 12% off room rates and can enjoy early check-ins and late check-outs, as well as instant discounts across all Travelodge hotels in Asia. Travelodge Hotels Asia is also running a series of Asia-wide consumer competitions inviting hotel guests and savvy travellers to share their own hidden travel gems for the chance to win a free hotel stay and/or experiences. For more details, visit the Travelodge Hotels Asia Instagram or website. For more information or reservations, please visit www.travelodgedongdaemun.com or email enquiry.tlds@travelodgehotels.asia.